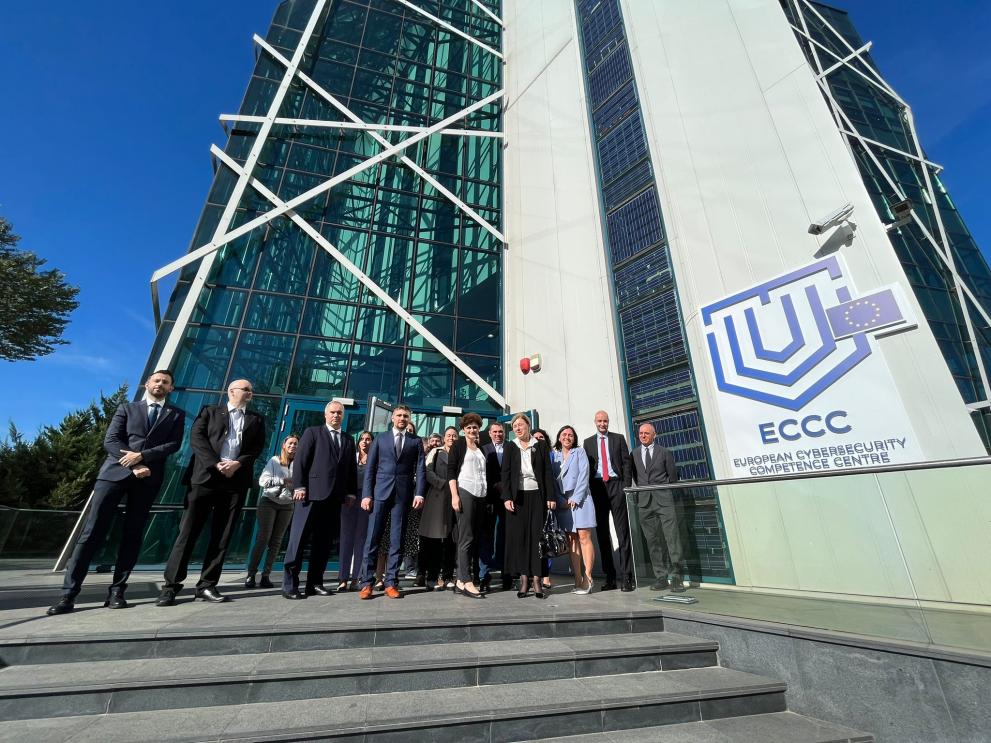 Today, the European Cybersecurity Competence Centre (ECCC) welcomed European Commission Vice-President Věra Jourová at its headquarters in Bucharest, Romania.
During her visit, Vice-President Věra Jourová exchanged with the ECCC staff on the Centre's objectives and the importance of cybersecurity ecosystem within the EU. The ECCC, the first EU Body established in Romania, has already started its operations. With its 20 staff members today and close to 30 by the end of this year, the ECCC manages several hundreds of million euros from the Digital Europe programme.
The ECCC Governing Board recently elected Luca Tagliarettias ECCC Executive Director for the next 4 years. He will soon take over his duties from Miguel González Sancho, who has been acting as Interim Executive Director since September 2021 on behalf of the European Commission.
For more information, please check out the ECCC website. Contact for media: CNECT-ECCC-MEDIA-TEAM

ec [dot] europa [dot] eu (CNECT-ECCC-MEDIA-TEAM[at]ec[dot]europa[dot]eu)
 
Background
The European Cybersecurity Competence Centre (ECCC) aims to increase Europe's cybersecurity capacities, innovation and competitiveness, managing funding and working with a Network of National Coordination Centres (NCCs) and the Cybersecurity Community across the EU.
The ECCC manages cybersecurity projects funded by the DIGITAL Europe and Horizon Europe , as well as Member States and other actors. The ECCC adopted in March 2023 its first strategic agenda for investment on cybersecurity, and will open its next call for proposals for EU projects on cybersecurity at the end of 2023. The ECCC, together with the NCCs Network, also supports collaboration on cybersecurity innovation and capacities between industry, public authorities, academia and other relevant cyber stakeholders.
Details
Publication date

30 October 2023

Author