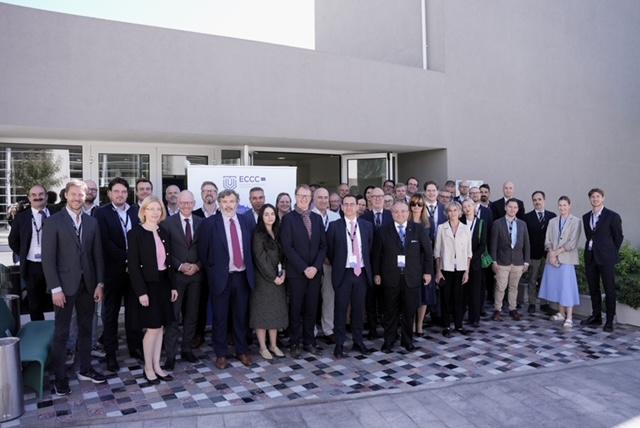 The Governing Board of the EU Cybersecurity Competence Center (ECCC), during its 7th meeting held in Athens, Greece, has elected today Luca Tagliaretti to lead the Centre for four years as per Regulation (EU) 2021/887 .
Luca Tagliaretti is currently the Deputy Executive Director of eu-LISA, the European Union Agency for the Operational Management of Large-Scale IT Systems in the Area of Freedom, Security and Justice. He will soon take over his duties from Miguel González Sancho, who has been acting as Interim Executive Director since September 2021 on behalf of the European Commission, until the formal election of an Executive Director.
Miguel González Sancho said: "I warmly congratulate Luca and wish him the best in his new role. I will closely work with him to ensure a smooth transition in the lead of the Centre. He will take over an organisation which is already operational, counting 18 staff members today and close to 30 by the end of this year, working from an office in Bucharest, managing several hundreds of million euros from the DIGITAL Europe program, and collaborating with a thriving network of National Coordination Centres".
Luca Tagliaretti declared: "I am honoured to have been selected as Executive Director. The ECCC, together with the National Coordination Centres, has a unique role to play in the EU cybersecurity landscape, building cyber capacity and helping align efforts in the cyber community. The ECCC manages significant investments on cyber priorities in line with its strategic agenda. I will bring my experience from EU-LISA and feel eager to start working with all ECCC Governing Board members (EU Member States, other European countries, the European Commission and ENISA), NCCs and other stakeholders. I also very much look forward to joining my new colleagues at the ECCC in Bucharest and, together with them and the Commission, complete the last steps in the establishment of the Centre".
This decision followed the election of the chairperson of the Network of the NCCs Lauri Tankler, from Estonia and two deputy chairpersons Katarzyna Nowak, from Poland, and Carolina Lioré, from France.
For more information, please check the ECCC website.
Contact for media:  CNECT-ECCC-MEDIA-TEAM

ec [dot] europa [dot] eu (CNECT-ECCC-MEDIA-TEAM[at]ec[dot]europa[dot]eu)

Background   
The European Cybersecurity Competence Centre (ECCC) aims to increase Europe's cybersecurity capacities, innovation and competitiveness, works with a Network of National Coordination Centres (NCCs) and the Cybersecurity Community across the EU
The ECCC decides on EU funding on cybersecurity under the DIGITAL Europe and Horizon Europe  work programs, and manages projects, pooling resources from the EU, Member States and other actors. The ECCC has recently adopted an agenda for strategic investment on cybersecurity and will soon open new calls for proposals for EU projects on cybersecurity. The ECCC, together with the NCCs Network, also supports collaboration and sharing of expertise and capacities between industry, public authorities, academia and other relevant cyber stakeholders.
Details
Publication date

13 October 2023

Author