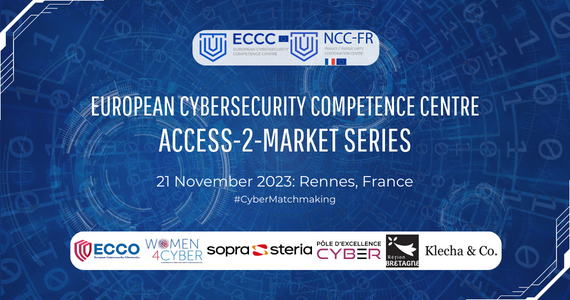 The European Cybersecurity Competence Centre (ECCC) has launched the second edition of the ECCC Access-2-Market Matchmaking Event series in Rennes, France, on 21 November 2023. Focusing on the topic of "Critical Infrastructure", the event will include eleven European cybersecurity providers that will pitch their solutions in the presence of industry leaders and potential buyers. Finally, a committed jury composed of CISOs will choose the two providers with the most promising solutions for Europe today.
This edition of the ECCC Access-2-Market event has been organised in collaboration with the French National Coordination Centre (NCC-FR), the Women4Cyber Foundation, Sopra Steria, Pole d'Excellence Cyber, Région Bretagne, and Klecha & Co., and supported by the European Cybersecurity COmmunity (ECCO) project, as proof of their commitment to champion a more accessible European cybersecurity market.
This initiative provides European cybersecurity companies the crucial chance to meet prospective business partners by gathering market stakeholders to one location and this time they will engage in pitching their solutions regarding the topic of "Critical Infrastructure" in Rennes. With its Access-2-Market Matchmaking series, the ECCC aims to bridge today's existing gap in Europe between suppliers and buyers of cybersecurity, along with promoting European-made products, ultimately strengthening the market as a whole.
Without further ado, the following European cybersecurity providers will pitch their ground-breaking solutions to the audience:
The dedicated Access-2-Market jury, featuring notable CISOs in the field of cybersecurity, Gwenaelle QUEMENER (ComCyber), François MASSARDIER (DGA), Quentin BESNARD (Tikehau), and Lucie POIRAUD (Groupe ATLANTIC), will undertake the task of deliberating on the two most promising pitches to be selected as nominees for the prestigious final competition, the ECSO CISO Choice Award, scheduled to take place in March 2024 in Bochum, Germany.  
The ECCC wishes the best of luck to these European providers as they take on this journey to success at the Access-2-Market matchmaking event.    
Details
Publication date

10 November 2023

Author