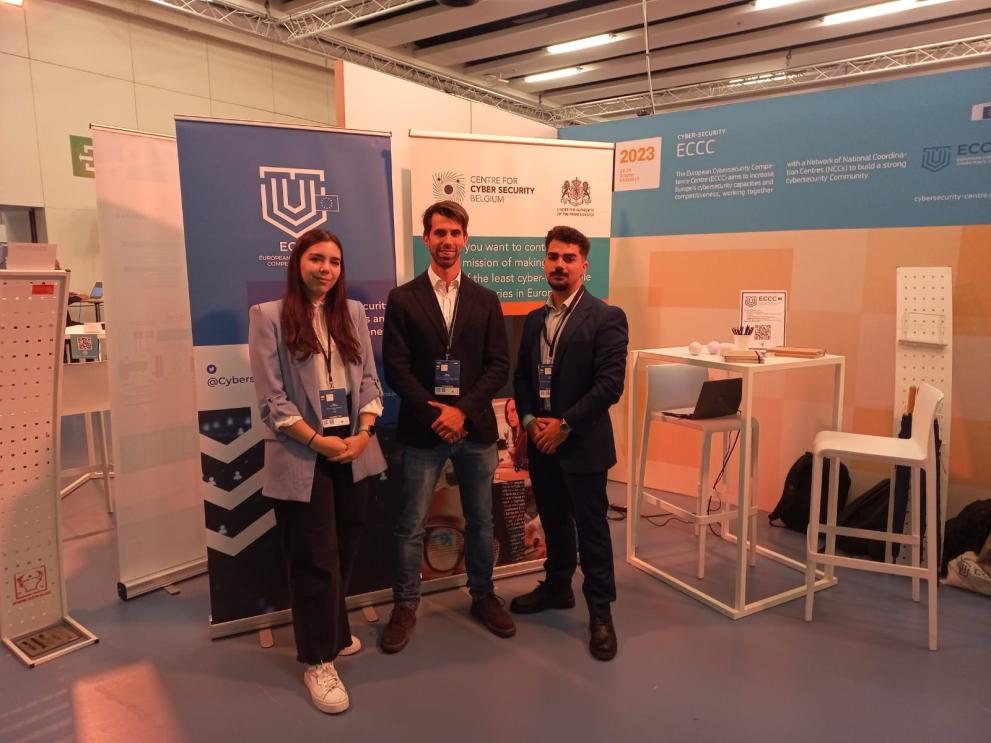 On 24-25 October 2023, the European Cybersecurity Competence Centre (ECCC), together with the Belgian National Competence Centre (NCC-BE), participated in the Security Research Event (SRE) exhibition in Brussels, sharing an information booth. Prepared and organised with the support of Member States Sweden and Spain, the Security Research Event was organised by- and took place under the Spanish Presidency of theCouncil of the EU. The ECCC's and the Network of National Coordination Centre's mission was to convey valuable information on funding opportunities under the Horizon Europe and Digital Europe Programme, as well as on the overarching objective to improve cooperation between public and private actors across Europe, boost investments in European cybersecurity, and build a European cybersecurity community. 
The SRE is an annual event gathering policymakers, business professionals and academic institutions to discuss the current situation and present the difficulties that security research in Europe faces. Today, security authorities are facing a changing world and growing international tensions, that requires rethinking the capabilities needed to perform their missions. While the demand for critical raw materials is foreseen to increase drastically, this comes with risks for supply chains and may affect countries' sovereignty, prosperity, safety, and security. These growing trends require a renewed debate on the role to be played, and contribution to be delivered, through European security research. The aim of the exhibition was to discuss the changing landscape in Europe and the role security research plays in Europe.
Thanks to a joint booth, visitors had the opportunity to engage in conversations with both representatives from the ECCC and of the NCC-BE, and to be informed on different funding opportunities of the open calls under Horizon Europe and, in particular, the Digital Europe Programme. Additionally, visitors of the booth were encouraged to engage in discussions on topics such as development of the cybersecurity industry, innovative solutions for security in European research, and the future plans for strengthening the European cybersecurity community through new ECCC initiatives.
By participating in events such as the Security Research Event, the ECCC affirms its commitment to contribute to the strengthening of the European cybersecurity community and market. The Digital Europe Programme and Horizon Europe open calls for cybersecurity will open in end of November/beginning of December. The ECCC encourages European cybersecurity stakeholders to send in their applications for funding once they open. Stay tuned.
Details
Publication date

6 November 2023

Author