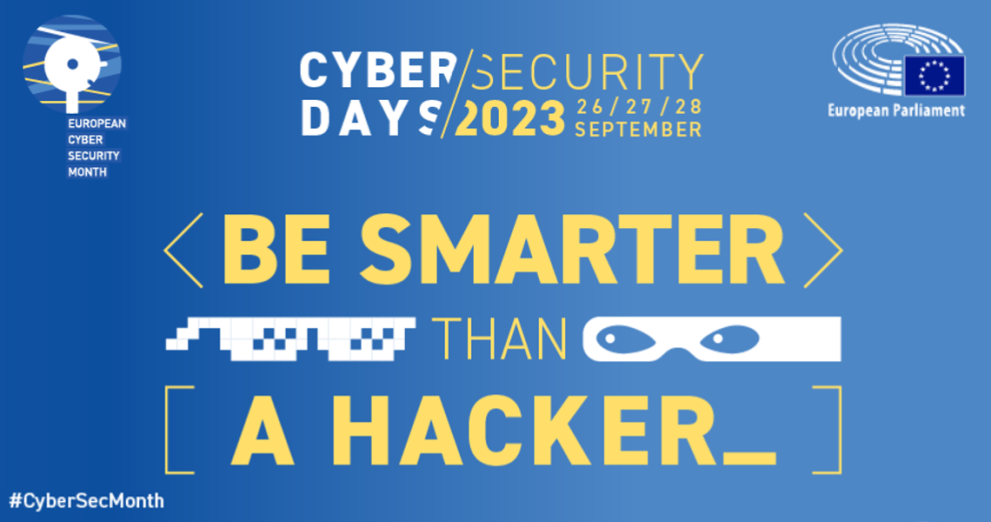 The European Cybersecurity Competence Centre (ECCC) will be attending the upcoming Cyber Days on 26-28 September 2023 in Brussels, Belgium, with an on-site information booth that will be shared with the European Union Agency for Cybersecurity (ENISA). Attendees of the event are invited to stop by this stand to learn more about the numerous initiatives and projects of the ECCC as well as ENISA. Alongside the opportunity to explore the numerous activities of these organisations, the booth offers visitors the chance to engage in meaningful conversations with not only fellow attendees but also representatives of the ECCC and ENISA.
From 26 to 28 September 2023, the Cyber Days 2023 event will take place as a 3-day kick-starter to the European Cybersecurity Month. The Cyber Days will also feature a special cyber village exhibition space that will showcase various cybersecurity activities and workshops. Here, attending professionals will be able to learn more about cybersecurity in an interactive and engaging setting.
The ECCC will be part of this exhibition space, setting up an informational exhibition stand where visitors can gain insights into the ECCC, the Network of National Coordination Centres (NCC), the European Cybersecurity COmmunity (ECCO) project, along with funding opportunities under the Digital Europe Programme and Horizon Europe. The booth will be shared with the European Union Agency for Cybersecurity (ENISA), consequently providing visitors the opportunity to gain information about the ENISA alongside the ECCC. Visitors will further have the chance to use this space to network with like-minded individuals and stakeholders.
Whether an individual looking for specific information or someone looking for new connections and interesting discussions, the ECCC welcomes all attendees to come visit the booth. It will remain available to offer all the necessary information and assistance throughout the 3-day event, encouraging visitors to discover all the exciting activities and opportunities the European cybersecurity landscape provides.
Details
Publication date

25 September 2023

Author