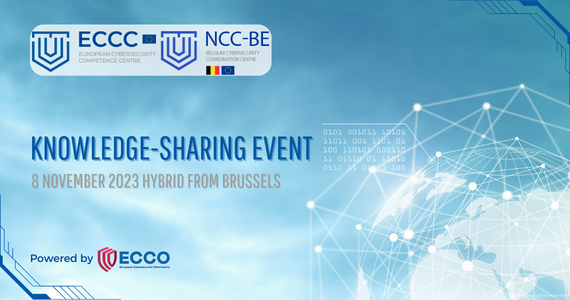 On 8 November, 2023, the European Cybersecurity Competence Centre (ECCC) and the Belgian National Coordination Centre (NCC-BE) jointly hosted the inaugural ECCC Knowledge-Sharing Event. With its ultimate aim of promoting collaboration and information exchange on critical cybersecurity topics, the first edition of this new initiative focused on cybersecurity awareness. The event featured presentations on successful European campaigns and initiatives, drawing participation from NCCs of Belgium, Luxembourg, Germany, Italy, and Estonia.
 After introductory remarks by Miguel de Bruycker (Managing Director General at the NCC-BE) and Miguel Gonzales-Sancho (Interim Executive Director at the ECCC), both of whom emphasised the importance of exchanging intelligence derived from innovative European projects and therefore learning from each other's experiences, the event went on to showcase the impressive awareness work done by different European parties.
Miguel Gonzales-Sancho said: "With the success of the inaugural event, the ECCC looks forward to many knowledge-sharing events to come, confident that they will inspire many important discussions and ultimately strengthen Europe's collective cybersecurity resilience in the face of modern threats."
Not only the Belgian NCC but also the NCCs from Luxembourg (NCC-LU), the Netherlands (NCC-NL), Germany (NCC-DE), Italy (NCC-IT), and Estonia (NCC-EE) to share their work on cybersecurity awareness. Each NCC brought their own national examples of raising cybersecurity awareness, such as the Belgian Safeonweb campaign, the Dutch HackShield initiative, and other public campaigns organised with the aim of supporting businesses, the workforce and citizens to protect themselves in the digital realm. All invited speakers played an important role by sharing their insights into past cybersecurity awareness campaigns, explaining the key elements that contributed to their success and providing valuable guidance on the effective launch of such initiatives.
In addition to the NCCs, the event invited representatives from the Belgian Cybersecurity Coalition as well as the Emmaüs hospital group, both joining the event in order to outline their projects aimed at increasing awareness of cybersecurity. With the increasing sophistication of cyber-attacks, especially in the healthcare sector where stakeholders possess highly personal and sensitive data, they detailed their efforts to increase consciousness of cybersecurity risks and protective measures.
All in all, the event provided a platform in which participants could share best practices and lessons learned in implementing awareness campaigns, consequently allowing participants to learn from each other's experiences and gain inspiration for creating cybersecurity awareness campaigns. The enthusiastic participation of multiple NCCs as well as the online audience served as a testament to the incredible capacity of the European cybersecurity community to come together and protect Europe.
All the presentations are available here.
Contact for media: CNECT-ECCC-MEDIA-TEAM

ec [dot] europa [dot] eu (CNECT-ECCC-MEDIA-TEAM[at]ec[dot]europa[dot]eu)
Background
The European Cybersecurity Competence Centre (ECCC) aims to increase Europe's cybersecurity capacities, innovation and competitiveness and works with a Network of National Coordination Centres (NCCs) and the Cybersecurity Community across the EU.
Details
Publication date

10 November 2023

Author