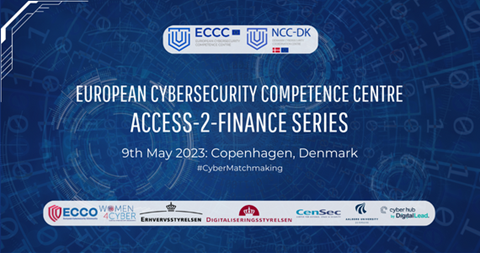 The European Cybersecurity Competence Center (ECCC) is organising its first Access-2-Finance Matchmaking event on the 9th of May in Copenhagen, Denmark. The event, hosted bythe Danish National Competence Centre, the Danish Business Authority (ERST), the Danish Agency for Digital Government (DIGEST), CenSec, DigitalLead, Aalborg University, Women4Cyber,and supported by ECCO, will gather the most promising European cybersecurity start-ups and scale-ups to meet with leading investors and corporations from around Europe.
The ECCC is hosting its Access-2 Finance Series with its first matchmaking event in Copenhagen, Denmark. The event will be organised back-to-back with the in-person V2 Security Conference (10th - 11th May 2023) that requires prior online registration.
At the Access-2-Finance Series, the top European cybersecurity start-ups and scale-ups will take the stage and have the unique opportunity to pitch their innovative cybersecurity solutions. The aim is to strengthen ties between providers and users of cybersecurity solutions and create connections between leading investors and companies, fostering the EU Digital Single Market and its cybersecurity community. The ECCC and Danish NCC offer a unique opportunity to attend this cybersecurity event with outsanding content, renowned speakers and some of Europe's most exciting cybersecurity start-ups and scale-ups.
Besides pitches from prominent European start-ups, the event will also feature  a remarkable panel discussion on strengthening and increasing cyber defence capabilities in Denmark and its lessons for Europe. Experts from Denmark and Europe will gather to share their insights and ideas on the topic.
This cybersecurity business matchmaking series is designed to cover different investment phases, ranging from seed funding to strategic investment and M&A. With the Access-2-Finance Series matchmaking events, the ECCC aims to attract private investments within the EU cybersecurity ecosystem, stimulate collaboration within the European Community and secure market opportunities.
Are you an investor, industry expert or cybersecurity enthusiast interested in joining the ECCC Access-2-Finance Series as an attendee? The ECCC welcomes you to register HERE. For more information about the event, see the event page HERE.
The two best cybersecurity companies participating in the Danish edition of the ECCC Access-2-Finance series will be nominated to compete for the ECSO STARtup Award 2023. In addition, companies may be nominated for the Women4Cyber STARtup Award, recognizing female-led companies.
Details
Publication date

17 April 2023

Author