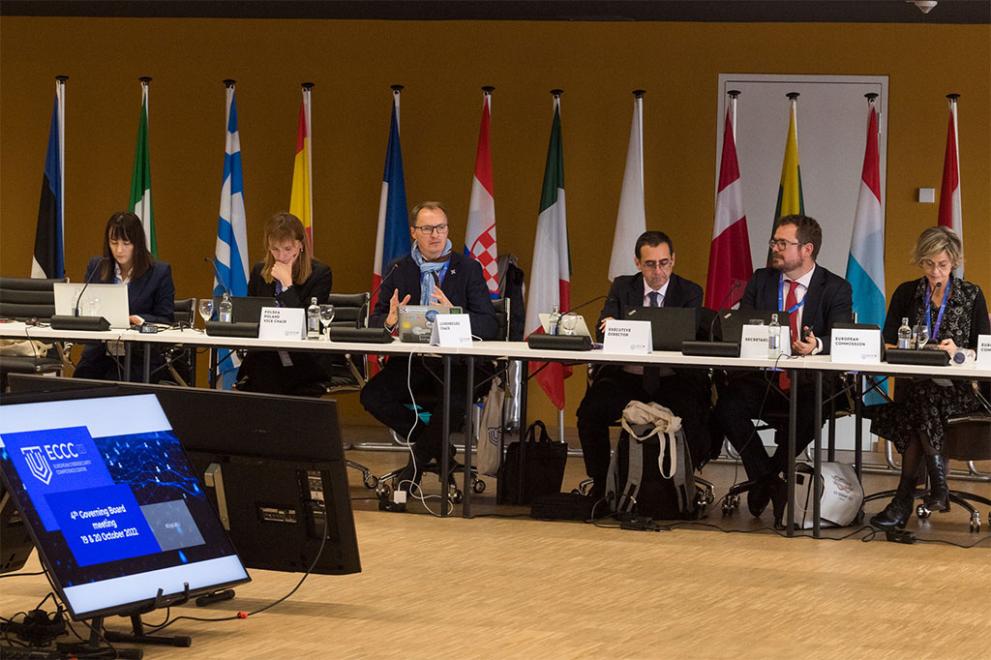 During this two-day meeting taking place during the Luxembourg Cybersecurity week , the Governing Board will discuss matters relating to the priorities and operations of the Centre. It will take stock of progress by several Working Groups focusing on aspects such as the cybersecurity community, the network of national coordination centres or the strategy of the Centre. The interim Executive Director, Miguel Gonzalez Sancho will report on the state of the practical establishment of the ECCC in Bucharest, including ongoing recruitments and the future building of the Centre. Furthermore, Kris Peeters, Vice-President of the European Investment Bank will present a study on investment challenges for EU cybersecurity start-ups and scale-ups. The study lays out potential financial instruments to remedy the challenges identified for the EU cybersecurity companies, using funding from the InvestEU and Digital Europe programs.
The Competence Centre together, together with the Network of National Coordination Centres, aims to strengthen European cybersecurity capacities, research excellence and industry competitiveness. For this purpose, it will manage some of the funding dedicated to cybersecurity in the Digital Europe Programme and Horizon Europe programme, as well as funding from the Member States. A new call for proposals in the cybersecurity domain under the Digital Europe Programme will open on 15 November (link), for over 176 MEUR.
 Background  
The European Cybersecurity Competence Centre (ECCC) aims to increase Europe's cybersecurity capacities and competitiveness, working together with a Network of National Coordination Centres (NCCs) to build a strong cybersecurity Community.
The Centre and the Network will pool resources from the EU, its Member States, as well industry, academia and other stakeholders, to improve and strengthen technology and industrial cybersecurity capacities, enhancing EU's open strategic autonomy.
The Centre will manage 2021-2027 EU funding from the Digital Europe and Horizon Europe Programmes, as well as contributions from Member States. In 2021-2022 the EU is investing more than €300 million in topics such as cyber threat intelligence, cybersecurity upgrades in SMEs, cyber in the health sector, cyber secured hardware and operating systems, or training and skills.
The Governing Board of the Centre is composed of representatives from the Member States (27 members), the Commission (2 members) and the European cybersecurity agency-ENISA (1 permanent observer). Last February, the Governing Board elected Pascal Steichen, from Luxembourg, as its Chair, and Katarzyna Prusak-Gorniak, from Poland, as its Vice-Chair.  The European Commission is running the Centre until it can operate fully independently, with Miguel González Sancho currently serving as Interim Executive Director of the Centre.
For more information on the Centre, including future funding and job opportunities, follow the Centre on Twitter and on the web .
Contact : paula.brouillard-molina@ec.europa.eu 
Details
Publication date

20 October 2022

Author